Sites at the top of Google search results typically score well in most, if not all, of these critical SEO success factors.
Contents:
1. Content that Targets User Search Queries
In essence, this is the very heart of SEO. The magic that makes it work.
Instead of traditional marketing where you push your message upon a user (think television commercials), SEO allows you to deliver exactly the content the user is searching for, at exactly the moment they search for it.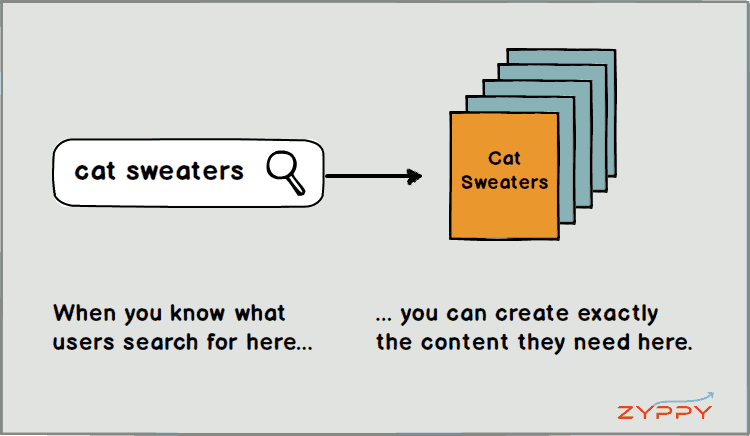 To make this happen, you need data on what users are searching. This is why almost all SEO starts with Keyword Research. Keyword Research takes many forms, but it typically consists of 3 types of data:
Query

: What are people searching for?

Volume

: How many are searching for it?

Difficulty

: How competitive is it to rank for this term in Google?
Once you know what terms are worth pursuing, you can create content that targets those topics. We'll cover this in later success factors.
How to Leverage
There are 100s of guides on getting started with keyword research. A few of the best include:
2. Crawlable + Accessible to Search Engines
All the keyword research in the world means nothing if search engines can't crawl or understand your website.
Not surprisingly, technical crawling and accessibility issues often represent both the biggest SEO challenge and biggest opportunity for a majority of sites.
From making sure your robots.txt file doesn't block important pages or resources, to providing machine-readable text, building machine accessible content is a critical SEO success factor.
A few technical areas that SEOs must master:
Making sure search engines can

discover + crawl

all important URLs

On page content is

readable

by search engines

On-site signals the relative

importance and uniqueness

of each page
How to Leverage
Most Technical SEO Audits cover crawling and search engine accessibility as priority #1. One of the best resources is Benjamin's Estes' Technical SEO Audit Checklist for Human Beings and Annielytics Site Audit Checklist.
Most major SEO audit tools uncover a number of crawling issues very effectively. A few well-respected tools you can use/try for free:
3. Quality & Quantity of Links
When Googlers Larry Page and Sergey Brin wrote the original PageRank patent in 1996, they had a novel idea: Instead of ranking web pages based on human editors, why not rank pages based on the number of links pointing at them from other web pages?
Links are votes.
Today's Google goes far beyond simply counting the raw number of links a site receives. Factors that play into this popularity contest are believed to include factors like trust, relevancy, position, and many more.
And while internal links (links from your own website) may not be as powerful as links from trusted external sites, internal linking and site architecture play an outsized role in your SEO efforts.
Although many speculate that the power of links has declined, or that Google may someday drop them altogether, Google statements and many experiments continue to prove their value as one of the strongest SEO success factors that we know.
A link is more than a navigational element. Each individual link on the web conveys multiple signals that Google can interpret for ranking purposes. These include:
The relevance of the Link
How to Leverage
If you want to rank, you need good links—from both inside and outside of your site.
For external linking strategies, we highly recommend the resources by Jon Cooper, in particular, Link Building Strategies — The Complete List.
For insight into internal linking, check out the linking resources at Hobo Web.
4. Satisfies User Intent
The pieces are coming together. So far we've:
Targeted content with

relevant user search queries

Made your site

crawlable and accessible

to search engines

Obtained

relevant links

pointing to your content
But now, perhaps one of the biggest questions of all: Does this content satisfy user's intent?
It's not enough to target your content with keywords and phrases (more on this later). The important question Google wants to know is "does the content give the user the most satisfying answer they are looking for?"
Google doesn't want to simply deliver answers to users; they want to deliver the best answers and experiences, ones that satisfy user intent without requiring additional searches.
SEOs refer to this in different ways: dwell time, the long click, return-to-SERP, and more. In essence, they all mean this: Does the user find the most satisfying answer to what they are looking for without searching further?
If the user has to click the back button, modify their search, or spend more time with results from other websites, this may be a sign that your content doesn't deliver the best experience.
How to Leverage
Delivering content that satisfies user intent is one of the most challenging aspects of SEO, in part because it's difficult to measure. That said, there are a number of practices that can improve your chances significantly.
Deliver content with the

format and features Google expects

. E.g., if the top ranking sites for your keyword in Google all contain video results, it's a good indication that users (and Google) are looking for videos to satisfy intent

Answer the query as

completely as possible, giving the user zero excuses to hit the back button. A good way to do this is to incorporate the answers to additional questions, i.e. "

people also ask

" into your content.

Measure and work to improve your

engagement rates

, including:

Bounce Rate

Time on Site

Pages per Visit

Goal Conversion Rate
Rand Fishkin has covered the topic of user satisfaction in depth. For better understanding, check out his articles:
5. Uniqueness of Content
If your content is exactly the same as multiple other copies on the web, why should Google rank it above all the others?
Put another way—if your content isn't uniquely valuable, it doesn't mean Google will necessarily punish you for it, but it does make it much, much harder to rise to the top.
When your content isn't unique, two things happen:
Google has to

filter out

all the duplicate content to deliver the best result – and there's a good chance your content will be in the filtered group.

Duplicate content can't target those

unique topics and answers

that the competition isn't targeting
Duplicate content issues generally take two forms. First is content that actually copies content from another site or page. The second is caused by duplicates of your own content when 2 or more URLs create the same (or very close) content.
Content that directly copies content from another site is obviously problematic. But also consider the problems created with your own original content when you have URLs like these:
https://example.com/product

https://example.com/product?color=default
In theory, both of these URLs may create the exact same page. Not only does Google need to crawl each one (which could waste precious crawl budget) but the two pages may split link equity and other ranking signals. This makes it very difficult for Google to decide which page—if any at all—to show in search results.
How to Leverage
Make sure your content, including all text, offers unique value from all other sites and pages across the internet.
Control duplicate content on your own site. Tools and techniques include canonical tags, parameter handling, robots.txt, redirects, and more. These guides should help:

6. Expertise, Authoritativeness, and Trustworthiness (EAT)
You can target keywords, build links, and maybe even satisfy user intent – but do you have a site both Google and users should trust?
In the earlier days of SEO, it was easier to game the search engines, and low-quality pages flooded the results. To combat this, Google introduced Panda into its algorithm, which uses machine learning to separate high and low-quality pages.
According to Google's Search Quality Evaluator Guidelines, the principal qualities that define a high-quality page are Expertise, Authoritativeness, and Trustworthiness (EAT). It's believed that Google uses the results from its human quality raters as training data in its machine learning algorithms.
Other qualities that define a high-quality page—according to evaluator guidelines—include:
A satisfying amount of high-quality content
A clear indication of who is responsible for the content, i.e., author information, "About Us" and contact information
A positive reputation
How to Leverage
A good place to start is Google's own published Panda questions, which many assume form the basis of their machine learning model.
Since you likely don't have an army of Search Quality Raters at your disposal, Distilled created a helpful Panda Survey that you can use with your own test group.
Finally, check out Marie Haynes resources on E-A-T and SEO. She's considered the expert.
7. Freshness
Does fresh equal success?
Since the early days, Google has filed patent after patent on evaluating content freshness for its search results. This typically involves two parts.
First, Google devised a system known as "Query Deserves Freshness" to determine the types of search terms that most benefit from fresh results. Examples include:
News and current events – "Seattle protest" "Grammy Awards"
Recurring events – "Full moon" "World Cup Schedule"
Frequently Updated – "iPhone Specs" "Mac Reviews"
Topics with a recent spike in search volume or social media coverage

Other systems determine how fresh and relevant your content is for the search query. Signals which may indicate fresh content include:
Age of the content
Updates to the content, including which sections were updated (important or unimportant) and how much content was updated
How frequently your content is updated
How often people link to your content (lower link frequency may indicate content that has grown stale)
Changes in engagement metrics (worsening engagement may mean content is out of date)
Fresh content isn't always better, but the idea is to deliver the most relevant content.
How to Leverage
Updating your content for the sake of freshness isn't necessary, but keeping your content relevant and up-to-date is. Updating old content is also a way to earn new links and fresh engagement. A couple of resources to help:
8. Click-through Rate (CTR)
For ages, SEOs and Googlers have debated if Click-through Rate is a ranking factor.
On one hand, SEO experiments show that when more people click your result in Google search, then your rankings typically rise. Google, on the other hand, usually argues that CTR would be a "noisy" signal to use for ranking (without actually denying it.)
The truth? It doesn't matter.
While there may be convincing evidence that earning higher a Click-through rate may improve your rankings, it simply doesn't matter if Google uses it as a direct—or even indirect—ranking signal.
The truth is that when you improve your CTR, you get more traffic. Period.
There are potential downstream benefits as well. A higher CTR means more people are looking at your content, which means more potential shares, more potential links, and more potential opportunities for engagement. All of these may have a positive influence on your Google rankings, either directly or indirectly.
How to Leverage
Fortunately, influencing CTR is one of the areas you have the most control over as an SEO. That is, at least you have the opportunity to experiment!
The three main tools you have to help raise CTR are:
Title Tags

Meta Description

Rich Snippets
The good news is that all of these are under your direct control, at least partially. Google may choose to display your information however they want in search results, but you can greatly influence this with your copy and structured data markup.
A few resources to help you master the game:
Optimizing for Featured Snippets is another option, which we'll cover in the next section.
9. Speed
Fast is in.
Speed is a confirmed ranking factor. When Google first announced it in 2010, they said it only applied to a small number of slow-loading pages.
Since then, multiple studies have shown a significant correlation between speed and rankings across all sites, not only the slow ones.
Additionally, Google announced site speed as a ranking factor for mobile results.
How to Leverage
For many, improving your page speed can be a technically challenging experience. Plus, there are so many factors (time to first byte, waterfalls, download time, etc.) it can be difficult to know what to optimize for.
Fortunately, Lighthouse is a free tool that both Google and the SEO community have rallied around. Its Performance Audit scores your page speed into a single metric and breaks it down into actionable steps.
Another easy option for improving speed is utilizing a Content Delivery Network (CDN) which can speed up delivery of images and files to your users. Cloudflare offers a highly recommended starter plan which is both free and easy.
10. Built for Multiple Devices
How big is the device you are reading this on?
Whether it's a desktop computer, tablet, or phone, hopefully everything is formatted okay and you can read it with ease.
Today, most modern content is built to be multi-device and mobile-friendly, but this factor can still play a huge in influencing your SEO performance.
Yes, mobile-friendliness is an actual Google ranking factor. But more than that, your mobile (and desktop) design can influence engagement, sharing, satisfaction, and quality metrics. A poor mobile experience can have a negative cascading effect on your rankings and visibility down the line.
Likewise, a positive experience can help.
Google recently rolled out Mobile First Indexing. The upshot is that Google will now mostly rank your pages based on your mobile site. So if your mobile site is missing content from your desktop site, you may be in trouble.
How to Leverage
Put simply: at a minimum, you should have a mobile-friendly site. Most modern platforms today do this by default with ease, but some older and many custom Content Management Systems may struggle.
Additionally, with Google's Mobile First Index, you should make sure your mobile site doesn't strip out important content. Here's a tool from Russ Jones that can tell if your mobile site is stripping out any links (beta): http://www.thegooglecache.com/mobile-links.php
Additional resources:
Next Steps